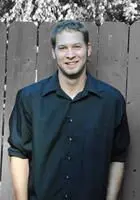 Ben Taussig, LCPC-S is a Licensed Clinical Professional Counselor (LCPC). Ben and his wife are life long locals of the Kansas City area, and they have four children and two American bulldogs Willow and Aspen.
Ben is a founding partner/co-owner of Secure Counseling Clinic, and has a Masters of Arts in Counseling from MidAmerica Nazarene University. Ben completed his masters-level internship at the MidAmerica Nazarene University Community Counseling Center. During his time there, Ben also pioneered a satellite counseling site in a rural community. Both sites focused on offering affordable counseling for individuals, couples, families, and groups as they worked through a range of personal and relational issues. He has completed training from the American Association of Certified Sexual Addiction Specialists (www.aasat.org).

Ben's diverse background prior to obtaining his Master's degree helps him to connect with a wide range of clients. He has worked with children and adolescents in a number of faith-based organizations, special needs children in public schools, and "third culture" students overseas. Ben views his clients through the lens of attachment theory, which fits his personal beliefs about the profound importance of healthy relationships. He enjoys facilitating healing and restoration in relationships as well as helping individuals find health and peace personally. Ben is a member in good standing with the American Counseling Association, Chi Sigma Iota honor fraternity for counselors, and the Kansas Counseling Association. To contact Ben, call 913-735-5128 or email [email protected], or view his clinical availability.